Bietigheim
This data set is provided on request for reasearch purposes only. Please contact Thomas Forbriger.
Recording with linear profile on 1D structure
This data set was recorded at a site with a predominantly 1D subsurface structure. Approximate location of the site:
48.95329°N, 9.11502°E
Approximately 15 m of loess, loam and gravel is overlying solid dolomite and limestone of the Upper Muschelkalk. Data was recorded with vertical geophones (10 Hz eigenfrequency). Both. a simple hammer blow and an explosive source ("Seismic Impulse Source System", S.I.S.Sy.) were used as a source. A joint inversion of wavefield expansion coefficients (including body waves and Rayleigh waves) and P-wave arrival times was applied to this data set (Forbriger, 2003a and b). Further, the full waveform of the field data was modeled from the final model and the force-time function of the source was derived (Forbriger, 2004). Forbriger (2001) gives a detailed description of the site.
Raw seismogram gather
A hammer blow was used for the recording of this exemplary shot gather.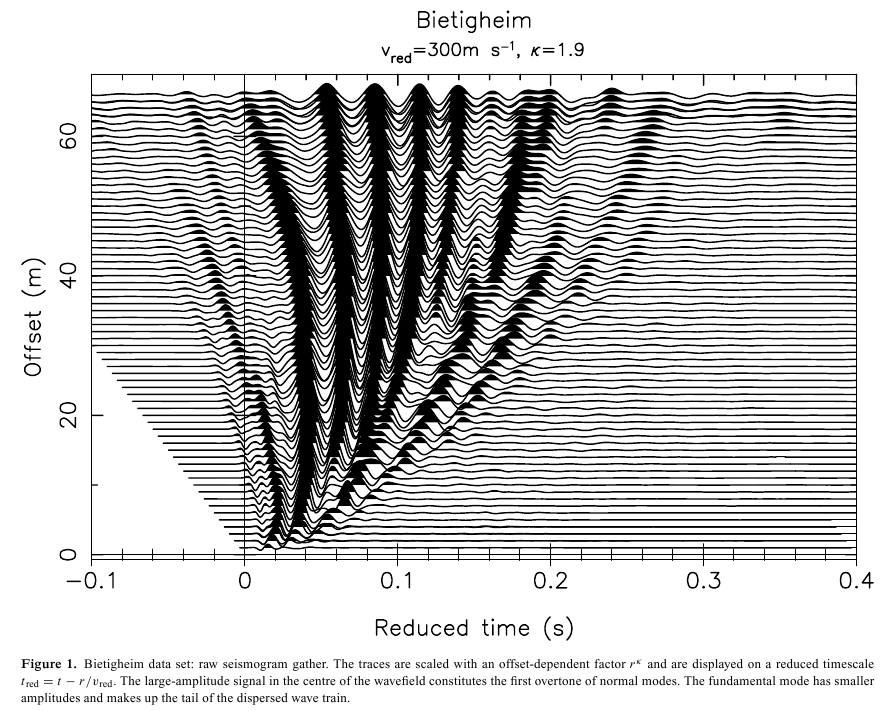 Velocity model which results from the joint inversion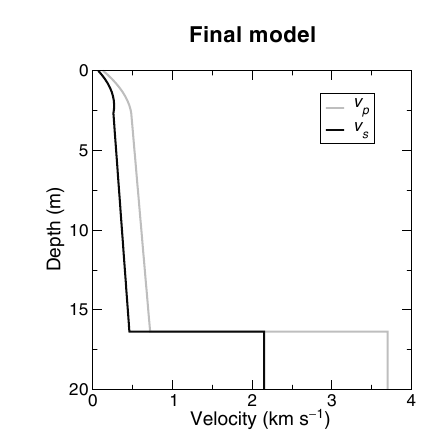 Recording with array configuration on 3D structure
At a second location near Bietigheim we recorded data in an array configuration. At this location the surface of the basement (Oberer Muschelkalk) has a clear and smooth topography as inferred by inversion of refracted P-wave travel time (Hecht, 2001). The depth of the discontinuity varies from 4m to 8m on a horizontal distance of 60m.
Additional data
Drill logs and Cobra soundings are available for the recording sites and nearby locations (Hecht, 2001).
References
Forbriger, T., 2001. Inversion flachseismischer Wellenfelder. Dissertation. Institut für Geophysik, Universität Stuttgart. urn:nbn:de:bsz:93-opus-8610
Forbriger, T., 2003a. Inversion of shallow-seismic wavefields: I. Wavefield transformation. Geophys. J. Int., 153, 719-734.

doi:10.1046/j.1365-246X.2003.01929.x
Forbriger, T., 2003b. Inversion of shallow-seismic wavefields: II. Inferring subsurface properties from wavefield transforms. Geophys. J. Int., 153, 735-752.

doi:10.1046/j.1365-246X.2003.01985.x
Forbriger, T., 2004. Dynamics of the Hammer Blow. In: Symposium in Memoriam of Prof. Gerhard Müller, J. Schweitzer (ed.). Deutsche Geophysikalische Gesellschaft, ISSN-Nr. 0934-6554, I/2004, 93-97.

urn:nbn:de:swb:90-78180
Hecht, S. (2001): Anwendung refraktionsseismischer Methoden zur Erkundung des oberflächennahen Untergrundes. Stuttg. Geogr. Stud. 131. 165 S.